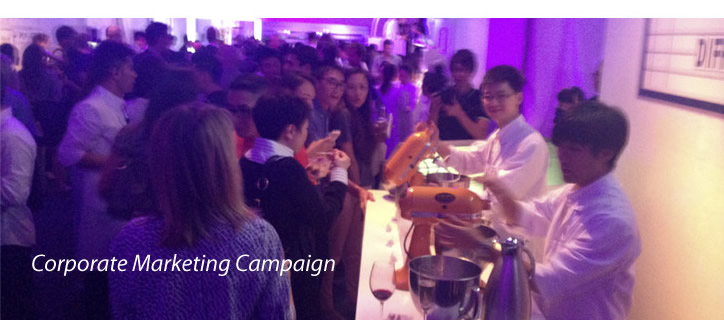 CORPORATE MARKETING CAMPAIGN

ICG had been invited to design and develop unique flavours of ice cream for the international corporates's marketing campaign - Swire Properties - Taikoo Place 2015. An evening party with over thousands of VIP and movie stars to celebrate the launch of NEW TAIKOO PLACE LIVING STYLE, ICG's ice cream was one of the major highlight for the living style!

PRODUCT LAUNCH PARTY

ICG's supreme quality UJI MATCHA ice cream and SAKE ice cream are the best choices for the SEIKO PRESAGE LAUNCH DAY.

BRAND PROMOTION

ICG is specialised in design and developing tailor-made flavours of ice cream for different brands. Ice Cream made with Rose Strawberry to represents Fissler's rose red logo colour. Strawberry ice cream with white chocolate snow covering Fuji mountain depicted Maruko's flavourite fruit and home district.

POP UP

ICG had been invited to be one of the honourable popup merchants in CHOCOLATE TRAIL of Harbour City. Amongst the list were Laduree, Pierre Herme Paris, Bvlgari .... Impressed by our reputable ice creams and fine quality chocolate.

PRIVATE PARTY

ICG provides clients with services of private parties in different function, including wedding, birthday party, company celebration...

EVENTS

Ice Cream always the most popular item in most of the events, BEST OF BRITISH specially selected ICG as the only ice cream merchant to serve the guests with our enriched British flavours - Bacon and Egg ice cream, Tequila Chocolate ice cream and British High Tea ice cream....

CHARITY

Charity is the social responsibility of a quality brand. ICG donated all ice cream income to support MATILDA HOSPITAL in SEDAN CHAIR FUNDRAISING, CWS CITY CHALLANGE, ORBIS - DARKNESS TO GO...

SEMINAR AND CONFERENCE

Demonstration of making natural ice cream in seminar and conference is the best way to tell the TRUTH of Ice Cream.
©2020 all rights are reserved